Shaman > Setup > Token selection
Shaman Setup is a graphical utility that supports end users with SSH Key management, including enabling or disabling OpenSSH access to remote servers. The private side of the SSH Key pair always remains encapsulated in a cryptographic token.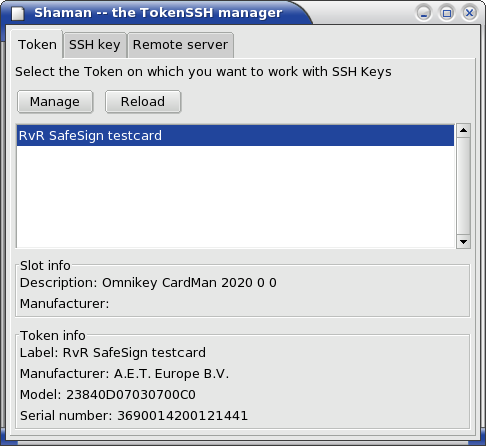 This window displays the list of tokens that are currently recognised on your computer. The Shaman should only be used in conjunction with those that are used by the ssh-agent that you have running in the background. If only one token is available, it is automatically selected and you can immediately proceed to the SSH Keys tab.
Manage is used to open a vendor-specific token manager utility.
Reload updates the token list after inserting or removing a token from your computer.
Manage your token

The Shaman is available for more than one kind of hardware token. If your token manufacturer provides a token management utility on the platform you are using, this button can be used to pop it up. If this button is absent, your manufacturer probably did not provide a management utility.
The extra information that is usually available in these utilities is the amount of free space on the token, as well as a listing of its contents; the Shaman only shows SSH Keys contained in the token.
If the Manage button is non-responsive, the tool was not found in its proper place or it does not load correctly for another reason. In such cases, try to open the utility directly. This button is of no direct use to the Shaman, it merely added for end user convenience.

Back to screenshot
Reload the token list

The Shaman does not automatically reload its token list when a token is inserted or removed. Please use the Reload button to update the list if you inserted or removed a token.
Most customers should find a single token listed under the Token tab. If no tokens appear, it may be that the drivers are not properly installed. Try to test using the procedures specified for your token. In some cases, the Manage button can be used to test. If it fails, you need to look into your token documentation.

Back to screenshot