Protecting Secrets on your Laptop
Laptops are useful, but not if they are stolen or lost. In such cases they can become dramatic information leaks. Internal information could be abused by customers, competitors or even the press. Here are some solutions to avoid such problems.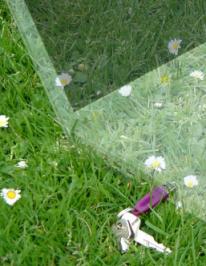 Other solutions
Issues to consider
Encryption makes data unreadable, even if the operating system is circumvented with a boot disk.
Authentication information such as local passwords and internet passwords are sensitive; they are often stored in operating systems.
Hardware tokens are light and small; they can be used as a key for your laptop.
Solution 1: Token-based Disk Encryption
The

LockTop solution demands a token to access encrypted data on the laptop. The need for a token means that your data is safe if your token is not plugged in.
LockTop for Windows protects laptop logon.
LockTop for Linux protects laptop login through a PAM module. Linux additionally provides

encrypted loopback devices for encryption.
LockTop for Mac OS X protects a

keychain, which stores credentials such as browser passwords and private certificate keys. LockTop for Mac OS X uses the token to login to a 'secure mode' inside the account.
Package summary:
ePass1000 tokens for USB at €30
LockTop licenses for selected operating systems at €15
Solution 2: Secure access to Remote File Servers
An obvious protection is to keep as little sensitive data on the laptop as needed. This is possible if the download and upload of files is smooth and secure from anywhere, even in a potentially hostile network. The

Shaman supports highly secured access to remote file servers.
Graphical Display of the contents of a remote system is supported for all remote systems.
Hostile Networks cannot read or alter the data in transit. Use your laptop on any mobile network you can access!
Requisites are a secure server and a secure laptop that initially meet over a secure network.
Package summary:
ePass2000 tokens for USB at €41
Shaman licenses for selected operating systems at €25
Solution 3: Secure Member Site access
A last option is to perform sensitive processing remotely, and not on the laptop at all. This is an option for webbed applications with a member section. To protect access to that section, credentials are needed. We suggest our Login token certificates, preferrably stored on a cryptographic token.
Certificates are digital products that are understood by a secure web server as a form of identification and authentication.
Expiration is a part of life for all serious cryptographic structures. Login tokens must be renewed annually.
Separation of Credentials from the difficult-to-guard laptop is possible with a hardware token; the ePass2000 can encapsulate the private key to your Login token.
Package summary:
Login tokens for access to the secured member site at €3
ePass2000 tokens for USB at €41
Server certificate to support the secure webserver at €100
The names of the products presented on this page are trademarks of OpenFortress